Just a little update of P365…
Day 31: Sadie at her follow-up Doctor appointment.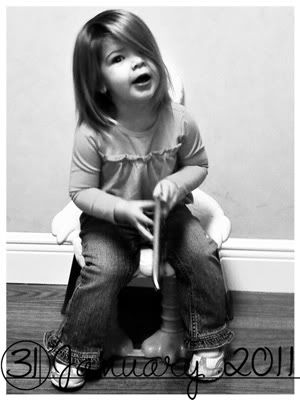 We're still treating this as asthma, although we're still not 100% sure that's what it is.  Her pediatrician said it can take up to a couple of months for lungs to heal once they've been ill, so we'll kind of have to see how she does after that time period and after weaning her off some meds.
As of now, she's still taking part of the breathing treatment that she was taking.  This is good that she's only taking part of it because she's becoming fairly tired of it and trying to be uncooperative.  Her Daddy's pretty good at getting her to do it.  He plays games and tells her to sing in her microphone, etc. 
  Good Daddy!  She also still taking some oral meds.  Praying that her cough will just go away completely!
Day 32: Wes & Claire playing outside after school.  Getting some energy-burning time in before the rain comes!  It's really windy and cloudy out, so it probably won't be long!
Since it's the first photo for February, I decided to change up my date marking a little bit.  Just going to try this (or variations of this) for this month and see how I like it.  If I like it I'll keep it, if not, I'll find something else. 
Have a great evening!