Remember that song?  "Jump! Jump! Chris Cross'll make ya – Jump! Jump!…."  Hehe!
Well, apparently Wesley has been learning to jump rope in PE at school lately.  Thank goodness Santa gave him a brand new jump rope in his stocking this year!!  Talk about coincidence!
Wes was anxious to finish his homework and get outside to enjoy the BEAUTIFUL weather and practice jumping rope.  He's actually really good at it!
(Day 46:)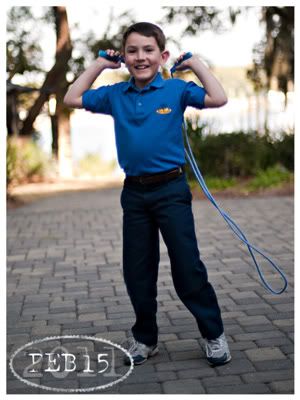 I got some other cute pics of him mid-air, but this was the best one of him looking at me and even smiling!
Claire also wanted to try…Bless her heart…I think 19 months makes a big difference in coordination…Look at all this hair…Everywhere…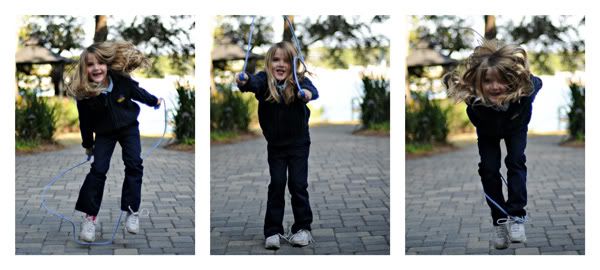 Wow! 
My parents came over to hang out with the kids while hubby and I went out to dinner again (see yesterday's post).  So, of course, the kids were anxious to show my Mom their jump roping skills.  She watched them, counted how many they did consecutively, and even jumped roped herself!  I wish I had taken my camera out to get a few shots of that!! 
It's an amazingly gorgeous day today!  Hope to get a few things done in the house and then enjoy some outside time w/ Boo! Have a great day!