I have this friend (whom I will not name) who admittedly is not happy for people when they get new stuff, especially fun gadget-y (I totally made that word up, huh?) stuff.  Ya know, computers, cameras, lenses.  Yes, all the stuff that I really like getting.  I totally respect the fact that she openly admits her jealousy!!!
So recently it was my birthday, and I was getting new stuff (namely a new lens), so I had to rub it in a little.  Sorry!!
But, it turns out to have bitten me in the butt a little.  You see, I ordered this lens to begin with:
Its a Tamron 28-75 mm, f/2.8.  I wanted it for a number of reasons: 1) fairly wide at the bottom end, and I've been wanting a wider angle; 2) zoom; 3) fixed aperture on a zoom!  If your not understanding #3, it just means the f-stop can stay the same no matter the distance you're zooming.  And, if you're shooting in manual mode, this is such an advantage since you don't have to change your settings each time you change your focal length.
So I got the lens in the day before my birthday.  Actually the night before my birthday, and I tried it out in my dark house. . .  Ugh!  I really did not like it at all.  Love the fact that it was a zoom w/ a fixed aperture, but didn't love that the widest the aperture could go was f/2.8.  That just does not let in enough light for my dark house (even in the daytime).
So I did an online return, and within about 5 minutes ordered a Sigma 30mm, f/1.4.  I knew I would love the 1.4 since that's the same aperture as my 50mm.  Would let in lots of light!  Was excited for it to be delivered a couple days later (gotta love an Amazon Prime trial which often qualifies for free overnight or 2-day shipping).
Got the lens a couple evenings later.  The family went to bed, and I stayed up to play with my new lens.  Got it out of the box in such anticipation of how nice it would be.  Started to put it on my camera….. uh oh.  Oh crap!  Somehow (and I have NO IDEA how) I had ordered the Canon version. . .I shoot Nikon.  Ugh!
So I did the whole online return which was becoming extremely familiar territory by now.  Took both -wrong- lenses to the UPS store to ship back, and my new CORRECT lens came in the next day.
And, yep, I love it!
You wouldn't believe how close I was standing to Sadie taking this one: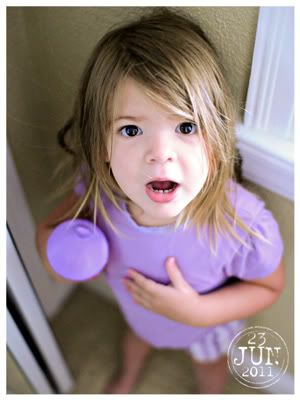 I'm sure you'll be seeing lots more shots using this lens!